Practice Philosophy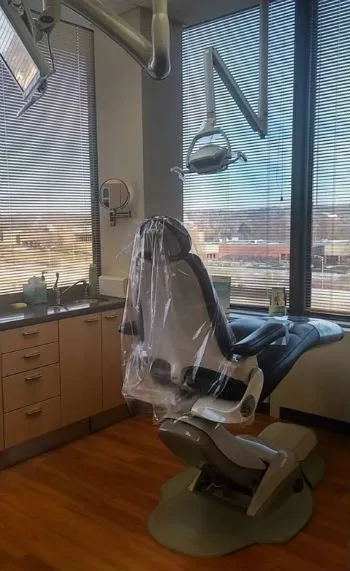 Enjoy the stunning view in your private operatory and relax in our dental massage chairs while you await your beautiful smile.
"A PLACE WHERE THE PATIENT COMES FIRST," a trip to our office should be something you look forward to. It is our responsibility to transform your visit into a pleasant, stress-free experience. Our goal is to inform, educate and explain all of your treatment options. You become a team member. Our motto is the Golden Rule: Treat everyone as we would want to be treated.
Dr. Essey firmly believes and is committed to continuing education to further his understanding of the ever changing treatment modalities available to provide a modern, safe and comfortable environment. He is a member of the Academy of General Dentistry, Seattle Study Club, as well as the Spear Study Club. He has completed a one year Peer Practicum in implant dentistry sponsored by Zimmer implants and a similar 8 month program sponsored by Astra-Zeneca. We continually update technologies to all areas of the office. Recently we purchased a new computer network for the new office. This network will enable us to operate with greater efficiency and communicate quickly with specialists, insurers and laboratories. Dr. Essey incorporated digital radiography into his practice in 1999 and is one of the earliest users of the Dexis Digital Radiography systems which continues to be a leader in digital dental radiography. Digital radiographs require much less (60% to 90%) radiation to create an image than traditional film- based techniques. This technology allows for improved image quality and more images with less radiation exposure. Dr. Essey also utilizes the Patient Gallery Digital Imaging software package. Digital Imaging facilitates better communication with the patient by viewing the problems in the mouth on a large color monitor in real time or freezing the images and printing a photo. These photos can be sent electronically to labs for better shade matching and overall improved cosmetic results. Digital Imaging also permits Dr. Essey to take photographs and then digitally alter these images to help give the patient a sense, visually, of what the anticipated cosmetic procedure outcome may look like before the procedures are even performed. Our newly installed state-of-the-art operatory equipment coupled with our digital software packages are all intended to facilitate the high standard of care you should expect.